Compare Christmas tree decorations masterpieces & Find tutorials to create the Holiday look your family will love. Some home made decor and something for trees of all sizes.
In this post you will find alternative looks for this Year's Christmas tree. We collected these designer ideas for you, to create the look you and your family will love. Regardless what size tree you have.
These simple (kids play) and low-cost ideas are guaranteed to breathe life into your holiday season. And hopefully, bring your family closer together during these few remaining days of the year. After all, is this not what Christmas really is all about?!
6 Foot Snowflake LED String Light Christmas Decoration Deals
Color: 3M Warm White
No matter what your seasonal decorating style is, here you will find plenty of beloved ideas, to present your Christmas tree in its full beauty.
From home-made ribbons to your kid's school ornaments and modern tree lighting options, these are the absolute best Christmas tree decorations that will make a perfect centerpiece for your holiday home.
PS
Many of these beautiful Christmas tree decorations will work on Indoor and Outdoor trees.
We also want to take this moment to wish you and your family a merry Christmas
Golden Christmas Tree Decorations
1 Gold & Royal Blue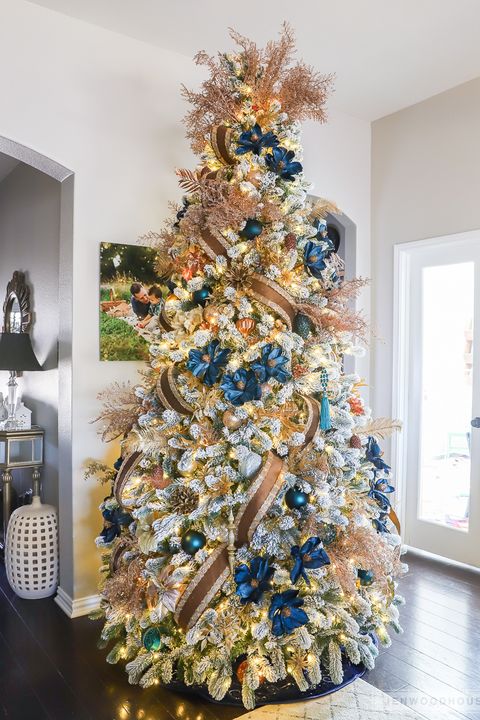 You might just agree that hardly anything else could have made this tree look any more perfect then these blue poinsettias.
2 Gold & Pink Roses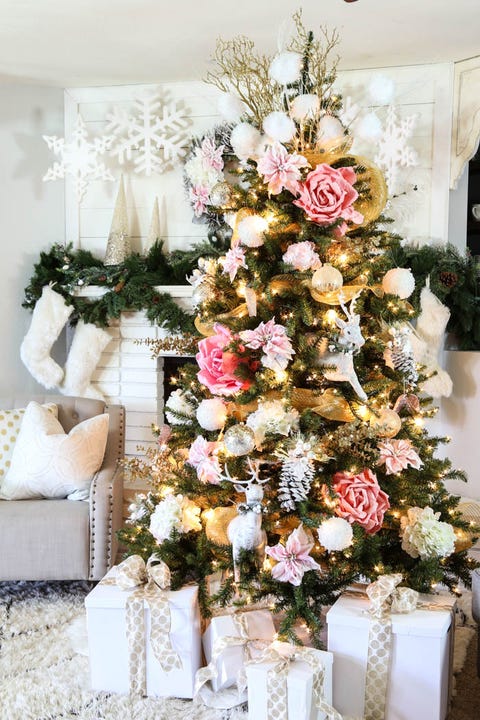 Well, I do have to admit, that those pink roses look great with the gold decoration as well. Shop for Silk Flowers
Gold & White Christmas Tree Decorations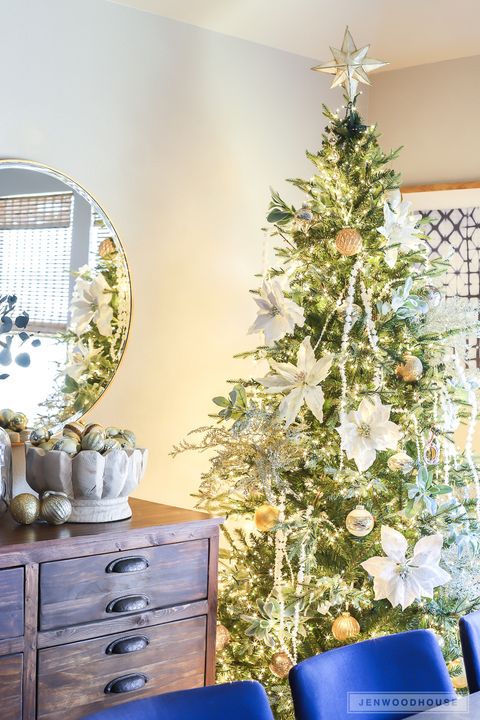 This white Poinsettia break the otherwise golden decoration nicely up. and the flower covers a large area what allows a mo natural look for the tree. This tree is not as busy as the one with the blue bloom since they take up so much space on the tree.
50 Scandinavian Christmas Tree Ornaments In Natural Wood
50 Scandinavian Christmas Tree Ornaments
Item Type: Ornament ,Material: Wood,  ,size: 3 cm / 1.18 inch, Quantity: 50, Color: Light Brown
Christmas Tree Decorations Farmhouse Style
4 Easy Farmhouse Christmas Tree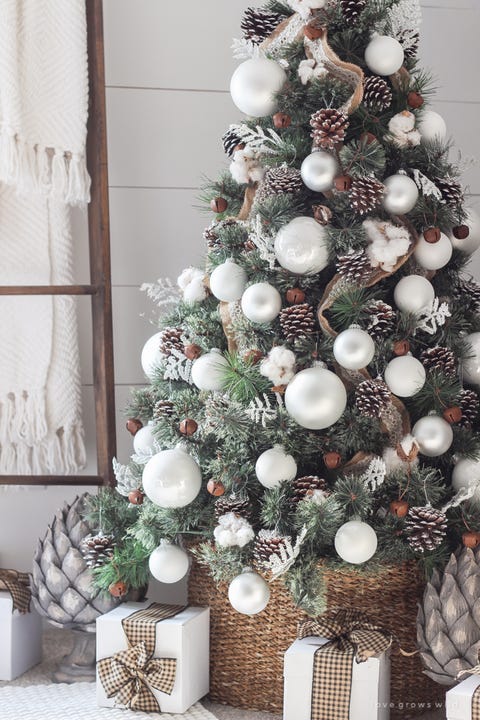 This cute little tree features country gifts and elements like pine-cones, cotten-balls, and a wooven basket posing as a tree skirt. Will this be farmhouse enough?
5 The Big Farmhouse Christmas Tree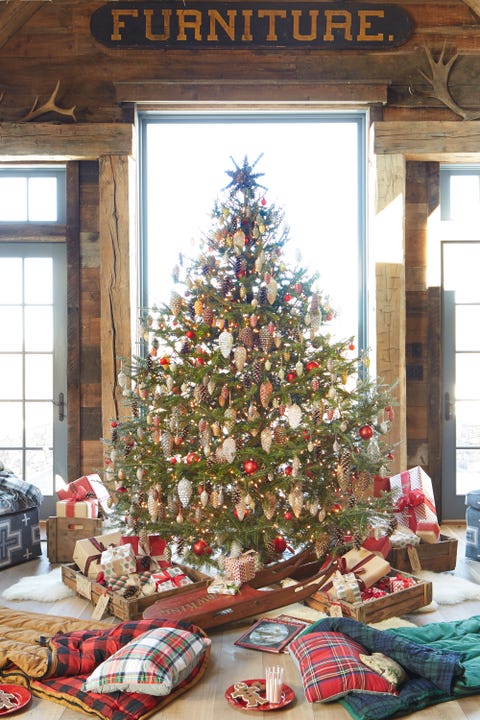 Looks like someone guarded the pine-cone covered Christmas tree all night. The plaided sleeping bags, cookies and milk kinda gave it away. Love the vintage sleigh
Small Christmas Tree Decorations
6 Explorer The Winter World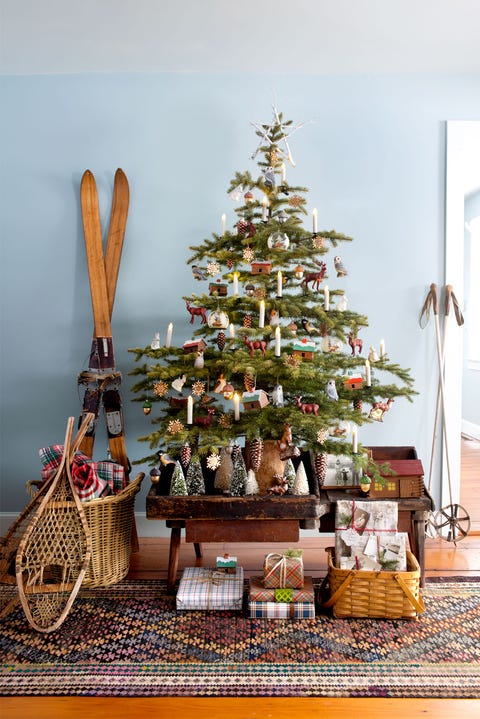 These Winter gadgets, outdoor critters, like owls & deer for ornaments present the perfect wood cabin or cottage Christmas tree to me. At some point, the ski and snow-shoes probably were the only way around. Shop for Flameless Candles
7 The perfect tree for an singles apartment or entryway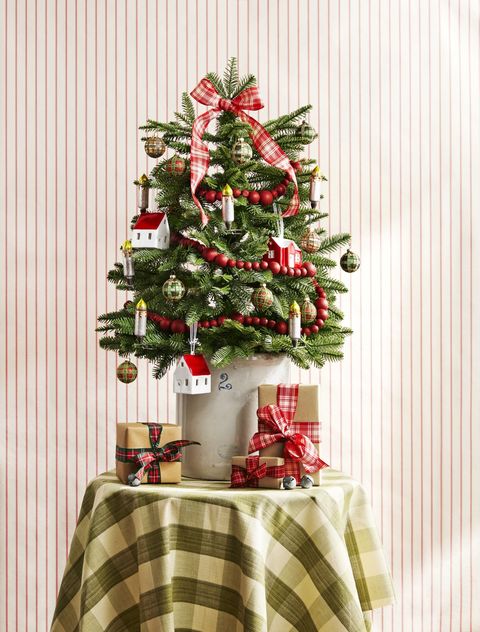 Grab a mini tree and set it into a tin bucket or like here in a stone ware crock. Use some left-over plaid ribbon. And decorate the tree with wooden beets, a plaid bow, and some ornaments. If it does not come pre-lid clamp on a few batteries operated candlesticks.
8 Christmas Tree Flashback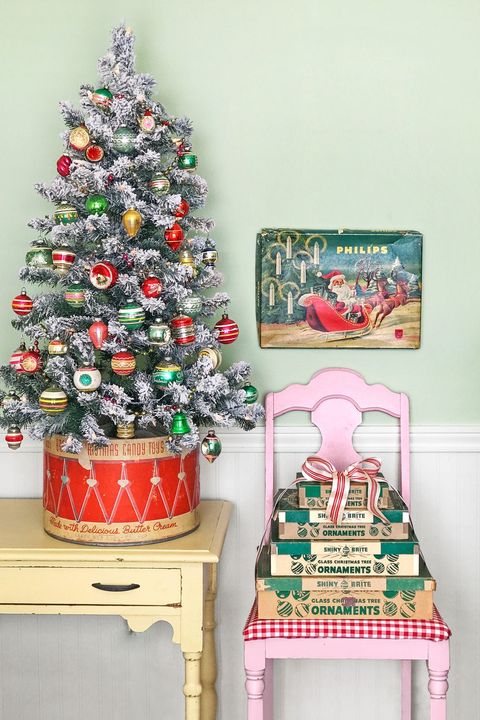 This little Christmas tree brings back memories. We kids had a tin drum like this and I love the idea of how all these antiques are grouped Shop mini Christmas Trees
9 Wintry Christmas Tree Decoration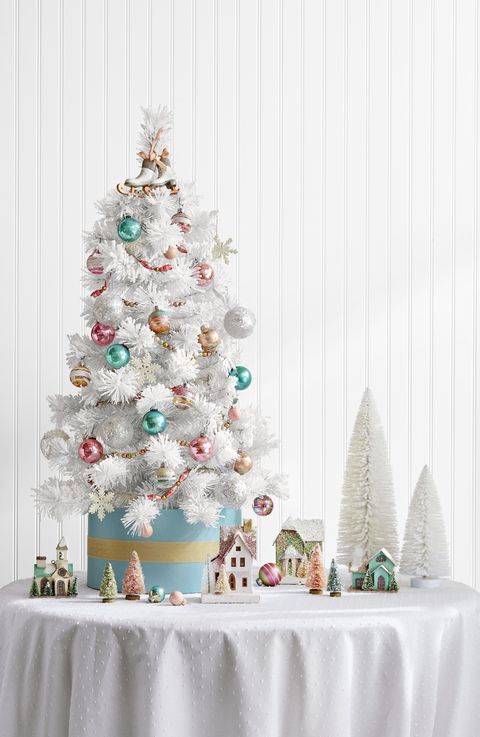 Here you find a solid white mini spruce setting the tone for a wintry landscape. Some pastel colored tree ornaments and a few decorative putz homes leading up to some cute ice-skate tree topper. Shop for putz house kit
Natural Christmas Tree Decorations
10 Northern Style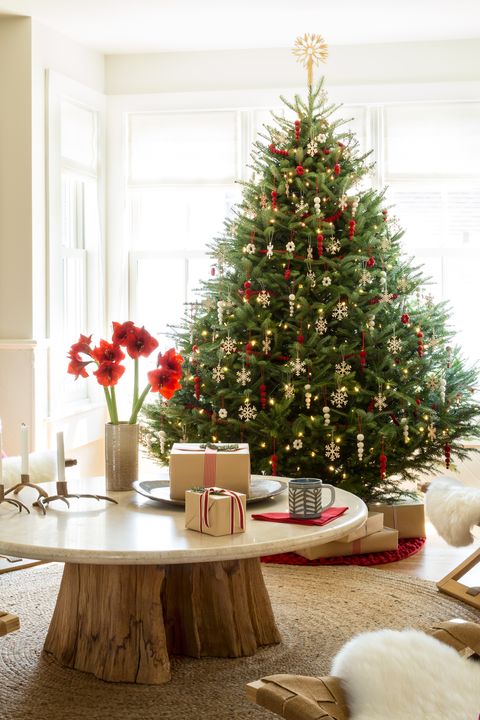 Swedish birch and felt ornaments supplied by Cose Nuove trim this tree.
11 Southwestern Style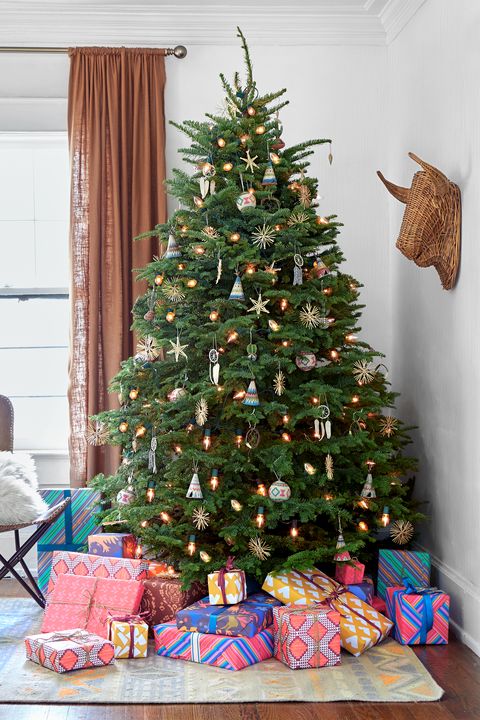 Welcome the south western holiday charm – If you find ornaments like Indian tepee's, cactus, and dream-catcher, this tree may be surrounded by sunrise colored gift wrapped presents.
12 West Coast Style Mini Tree For the Front Porch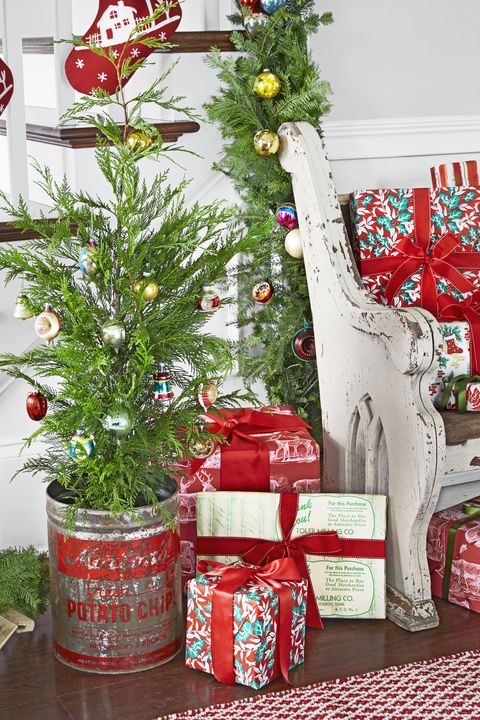 Featuring jolly red lettering, this former potato chip pail is the perfect vessel for a mini tree Evergreen. Shop Galvanized Buckets
13 East Coast State Bird Christmas Tree Topper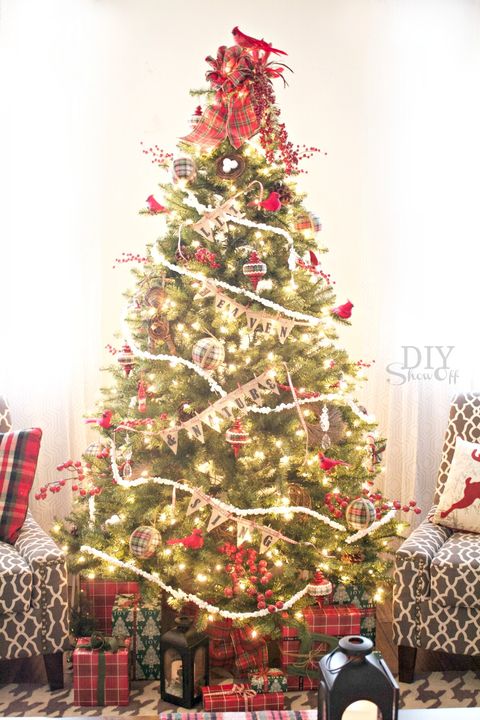 The Red Cardinal Tree Topper gave it away. This North Carolina State Bird along with the antique style rail road lantern …this Christmas tree decorations could be all around here.
Gallery with more Christmas Tree Decorations
Click on the Images below to get the details & Tutorials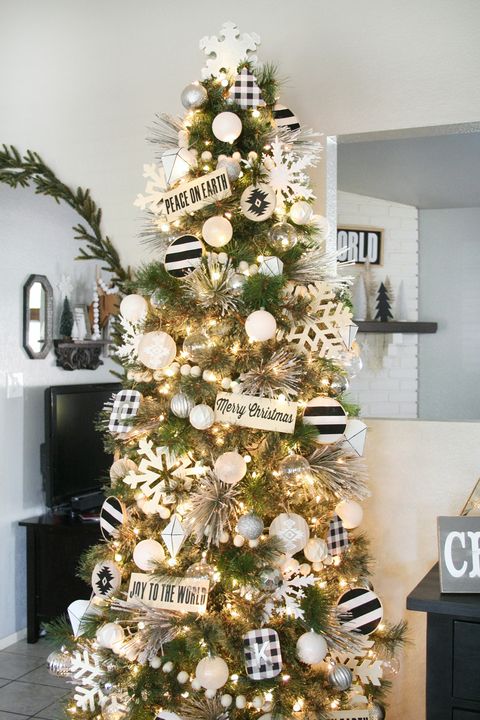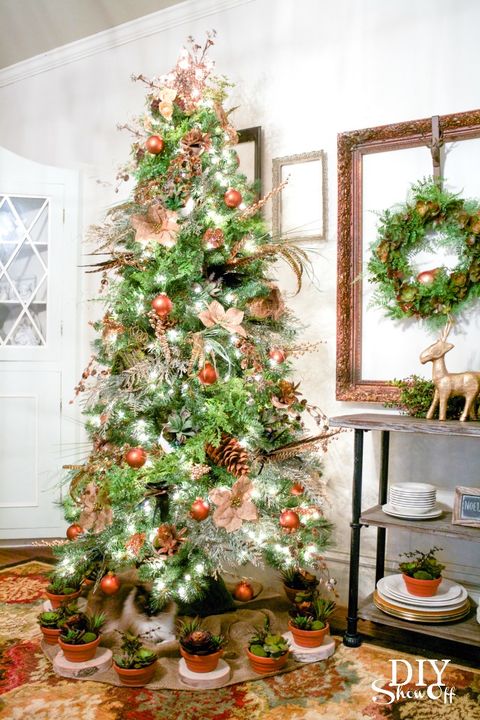 23 Winter Christmas Tree In Gold & Silver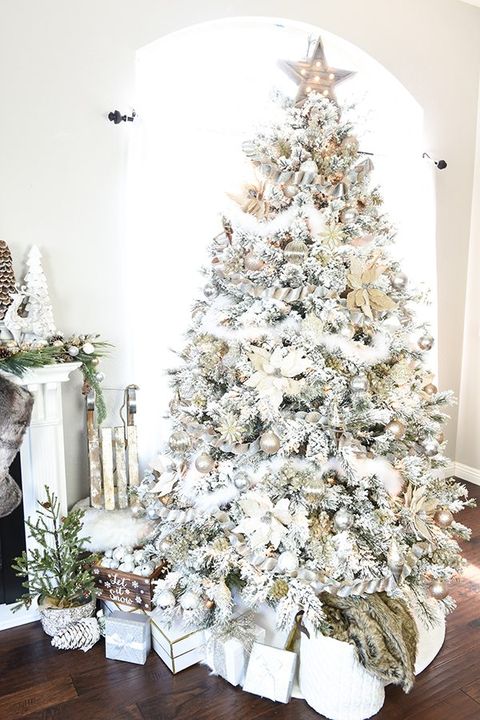 Conclusion:
I can't wait to see some of your responses maybe you will share your Christmas tree with me to add it to this collection for next year…
Please post your comments and questions below.
Here are more decorative ideas
Need some Centerpiece Ideas