THE RETRO STYLE BROWN HAIR GLASSES YOU'VE BEEN LOOKING FOR: GET IT NOW
Discover the latest addition to our store — Luxury Vintage Crystal Sunglasses. Take a look at our quality selection today. We guarantee the highest quality online, with the best price around.
Our shop stands by reliable, worldwide delivery and a 100% customer satisfaction guarantee. Shop with ease and peace of mind.
Luxury Vintage Crystal Sunglasses: CLOSER LOOK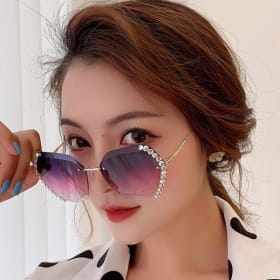 Lenses Material: Polycarbonate
Lenses Optical Attribute: Gradient
Frame Material: Alloy
Gender: Women
Yes, that's exactly what you get when you shop with us. Therefore, don't lose a chance to buy a high-quality product at a reasonable price!
Don't let your Shades be boring this season with our Luxury Vintage Crystal Sunglasses!
Perfect for blocking out any bad vibes and UV rays, these stylish Crystal Sunglasses are the latest fad in 2020. Yes, vintage is back! Designed with beautiful crystal detailing, these shades elegantly frame your face for a sophisticated touch of old-school glamour to any outfit or occasion. Cop one of the trendiest styles of sunglasses for this year, right here.
NON-POLARIZED LENSES, UV400 PROTECTION – 100% UV400 eye protection effectively filters & blocks glares.
Designed for driving & outdoor activities. A high-definition lens gives you a natural & clear vision. Durable & Shatterproof.
LIGHT-WEIGHT PLASTIC ARMS – Light-weight plastic arm gives you a stress-free & flat wearing experience and is skin-friendly, anti-allergy tested. The bridge of the nose gives you a feeling of unstressed comfort.
HIGH-QUALITY MATERIALS – Unbreakable & bright resin frame, all the details ensure you a perfect performance.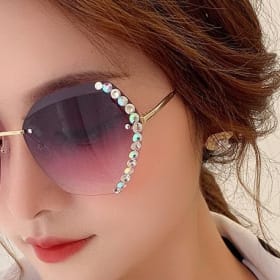 Anti-reflective
 UV400 Protection
 Material: Polycarbonate and alloy

 Lens Height:

63 mm / 2.5 inch

 Lens Width:

68 mm / 2.7 inch
Package Includes: 1 x Crystal Sunglasses
Get yours now!
PRODUCT QUESTIONS & ANSWERS
How do you produce these?
When manufacturing our Retro Style Brown Hair Glasses, we use only quality materials. So, there's no reason to worry.
How can I be sure the Sunglasses Cool Glasses can beat the competition?
The price for the Retro Style Brown Hair Glasses is better than what other stores ask because we work directly with the manufacturers.
I want it! How much does it cost?
For one product, you will have to pay $19.95.
The price is really low. Why?
We work directly with the suppliers. Thus, we can cut down the expenses on logistics.
Сan I write a review on my purchase?
We appreciate all the reviews of our customers. So, feel free to share the advantages and drawbacks of the product you've bought.
Do you mind if I post a photo of your product on Facebook or Instagram?
Please, feel free to share photos of your new product with your friends. Because we will be very happy about that.
ORDERING & STORE POLICIES
What if I order several units of the same product? Will they arrive one by one or as a single delivery?
You have no reason to worry because all the packages will arrive at the same time.
Can I get my money back if something gets wrong with the Sunglasses Cool Glasses during transportation or if the package is lost?
Please don't worry about that, because if you don't receive your package, or it is damaged when shipped, you will get your money back!
I want to ask something, but how do I connect to your help center or something?
You are welcome to use our support service. Take a look at the contact details listed at the bottom of the page, and use the channel that is most convenient to you. We will gladly answer any questions.
I want another variation of the Brown Hair Glasses, but I've already placed an order! What should I do?
There's no reason to worry because you can change your order or cancel it by contacting our support team.
Can I find the same Brown Hair Glasses in a regular store?
If you find the same Retro Style Brown Hair Glasses offline, you will be dealing with a reseller. That's why you will need to pay a higher price for this.
Are you selling these legally?
When selling these and other items, we strictly follow the legal regulations obligatory for this sphere.