OUPINKE …
A Name that stands for perfection – Prime-Gifts Collection of Top Luxury Brand Men Watches. The Sapphire Business Wristwatch is a Men's Waterproof Automatic Skeleton Wristwatch.
Watch the OUPINKE Men Automatic Luxury Skeleton Watch Video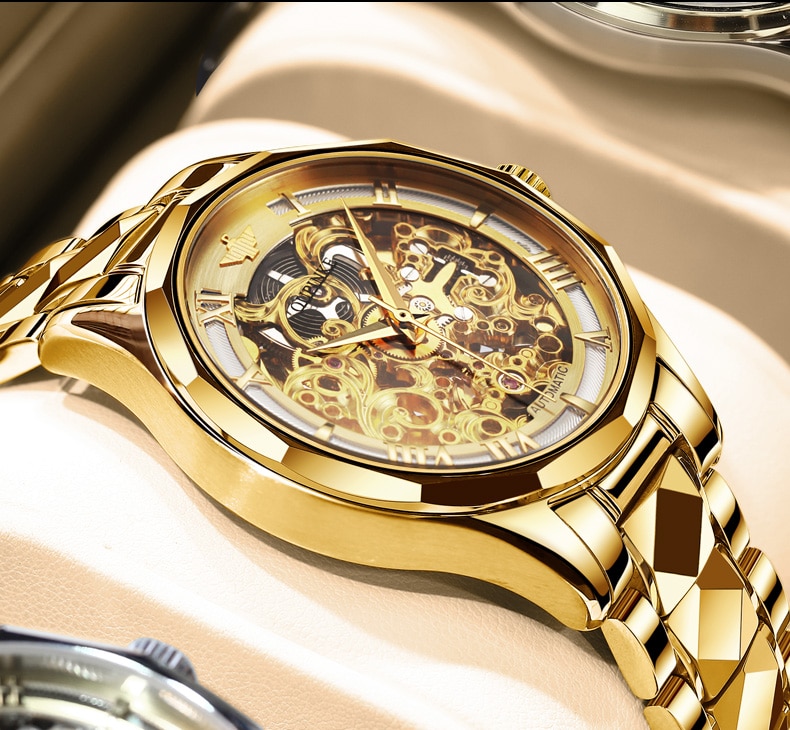 Sapphire Business Wristwatch Q&A
Q: Does this watch now give a strap for free as a gift? A: Yes, now you buy this watch, you will get a brown/black leather band for free as a gif
Q: How long is the warranty period of this watch and what should I do if there is an after-sales problem? A: Hello, the official international warranty period of this watch is two years. If there is any problem with the watch, please feel free to contact us
Q: Give a reason to buy this kind of watch? A: Swiss craftsmanship, high-quality materials, precise workmanship, fast shipping, best service of Prime-Gifts
Q: Do you have to wind it yourself if you wear it continuously? A: After receiving the watch need to wind it 35laps, you will wear it for 9 hours a day You no longer need to wind it.

DM Us if you need help
OUPINKE Men Automatic Skeleton Watch Reviews

 
Color: gold face Logistics: AliExpress Standard Shipping
The size of the watch is very suitable, the strap can be adjusted by itself, and a set of leather straps is given away as a gift. It's great. The dial with its skeleton design is also very fashionable. It's great

29 Jan 2021 18:24

    
Color: silver gold face Logistics: AliExpress Standard Shipping
After wearing it for a period of time, it's basically no problem. The time is very accurate. It's very convenient to wind up. It's better to wear it often because the watch can wind up automatically, but it's better to wear it once a week. The quality of the watch is very good

29 Jan 2021 18:25
Color: silver gold face Logistics: AliExpress Standard Shipping
It's a great watch. It's really a mechanical watch. Its skeleton can see the gears inside turning. It's very high-end. I like it very much

29 Jan 2021 18:22
Color: silver gold face Logistics: AliExpress Standard Shipping
I bought a similar watch, the material is much worse than this watch, so this watch is more expensive. The seller said that it is an automatic watch, and the movement is made in Switzerland. I believe it, because it is really accurate, and the mirror is sapphire, which is also very clear. My friend said that this material is very advanced, so it is worth the price. I'm very happy, so it's good for the seller feedback

23 Jan 2021 05:46
Color: silver gold face Logistics: AliExpress Standard Shipping
Well done, the delivery speed is very fast, the quality is very good, especially the skeleton design makes me like it very much, believe me, it is not expensive at all, it is worth the price

24 Ja

n 2021 02:50