THIS WILL DEFINITELY SELL: OUR WIRELESS SILENT GAMING MOUSE
Meet a guaranteed hot seller – our new Wireless Silent Gaming Mouse! We've added this Shop product that's based on some of the most in-demand products on our website. More selection for you, more things to buy!
Our store guarantees you:
Fast worldwide delivery
A no-questions-asked return policy
Ready-to-help customer service
See what our satisfied shoppers have had to say about their purchases.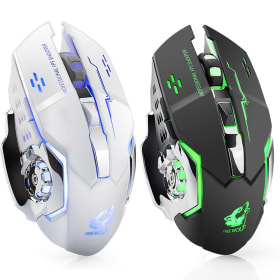 MORE DETAILS ABOUT WIRELESS SILENT GAMING MOUSE
Interface Type: USB
DPI: 1800
In other words, the combination of the unique design and perfect quality makes this amazing product a byword for a good purchase. So, hit ADD TO CART and enjoy!
Wireless Silent Gaming Mouse
Win with our Wireless Silent Gaming Mouse!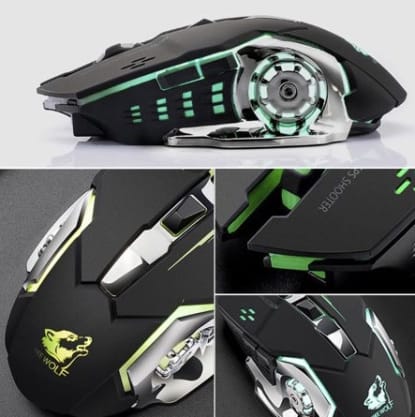 ❗ Rechargeable battery
Our Wireless Optical Mouse has a built-in lithium battery. It recharges due to a USB connection to your computer or a power bank. Furthermore, you may charge your mouse and continue using it at the same time.
❗ Wireless
Nothing can distract you from gaming. Forget about wires and stay concentrated.
❗ Silent buttons
The Mouse has 6 buttons and a scroll wheel. And all of them are silent!
If your family doesn't like the clicking sound, or you love to game at nighе, this Wireless Silent Gaming Mouse is made for you.
❗ 3 DPI Settings
Choose from 3 levels of DPI (800, 1600, 2400) and adjust the sensitivity according to your needs.
❗ Stylish and compact
Ideal for gaming or use in the office. Compatible with most systems including Windows 7 / 8 / 10 / XP, Vista 7 / 8, Mac, and Linux. Fit for PC, Notebook, Laptop, Computer, desktop, MacBook, and other devices with a USB port.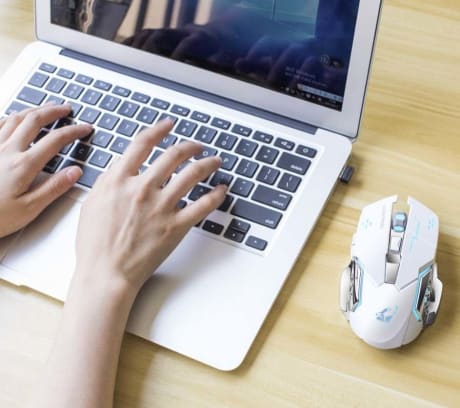 Specification:
Battery: 400mA
Size: 4.6 x 3.2 x 1 in
Ultra-precise Scroll Wheel
Customizable DPI: 800/1200/1800dpi.
Power: Lithium Batteries (Included)
Charging duration: 2-3 hours
Ultra-quite and Low-friction
Resolution adjustable in driverless-free drive
Optical technology works on most surfaces
Built-weight iron, feel comfortable, mobile, and stability
Wireless Silent Gaming Mouse Q&A
Does this product meet all the manufacturing standards?
All the products you see in our store, including the Wireless Silent Gaming Mouse, live up to all the necessary manufacturing requirements since we strive to offer the highest quality.
Can I see more product variations?
You will find all the available variations of the Wireless Silent Gaming Mouse on the product page, so just choose the one you like the most.
Are there any additional fees applied?
You will see the total order cost including the necessary taxes (if applicable to your location) on the checkout page. Thus, no other spendings will be required.
Can I afford it?
If you analyze the market, you will see that the offer is tempting enough. Then, evaluate your possibilities and make the decision!
Can I share my opinion on the purchase?
Your opinion about our products is really important for us. That's why we'll be happy if you share it with other people.
Can I share the photos of this product on the Internet?
If you want to place the photos of our products on the Internet, you're free to do so. Certainly, you won't face any objection on our part.
ORDERING & STORE POLICIES
Will I get a refund if anything happens to the package?
You're more than welcome to contact us because if we lose or break your package during transfer, you can count on a full refund.
How do you avoid your products breaking on their way to customers?
We use all the possible methods of securing your packages because it's our greatest responsibility to protect them from damage.
How can I learn more about the terms of the purchase? I can't find the info page.
You can easily contact us through any of the contact channels listed at the bottom of the page. After that, we'll reach out to you at short notice and answer all your questions.
How do I buy it?
Think of the number of items you want to buy and select their variations. ADD TO CART what you've chosen and follow the instructions on the checkout page to complete your order and pay for the purchase. Right after that, we'll receive these details and start making the package for you.
Can I purchase the Wireless Silent Gaming Mouse in an offline store?
If you find the same Wireless Silent Gaming Mouse offline, you will be dealing with a reseller. That's why you will need to pay a higher price for this.
I like the Wireless Silent Gaming Mouse, but do you have the authorization to sell this product?
You shouldn't worry about it. When selling these products, we certainly do not break any copyright laws.