You'll Love this Ultimate Easter Guide with its decorating & Easter Feast ideas. Find effortless meal recipes, cool gift ideas, & activities for kids of all ages.
Discover the reason behind us celebrating the Easter Feast and the source of the Easter Bunny and Egg Hunt.
We want to enable you to celebrate an Easter Feast that will make lifetime memories.
We wish a Happy Easter to you and your family.
Do you want to celebrate a great Easter? It doesn't have to be expensive. Here are simple ideas, if put in place, I guarantee you and your family have a great Easter Feast.
We just keep it simple and its simplicity what this ultimate Easter guide is all about.
We got lot's to cover … so, let's just jump right in …

When is Easter?
April 04/2021 Is Easter Sunday
Easter is immediately after lent. Lent is a period of fasting, moderation, repentance and spiritual discipline of 40 days, and it is done in preparation for Easter. In the Western Christianity, Ash Wednesday (receiving of Ash) marks the beginning of Lent and Easter. Easter Sunday, therefore, marks the end of Lent and is Easter day.
The Eastern Orthodox Churches
However, observe Lent or what is known as the Great Lent. For 6 weeks or 40 days before Palm, Sunday and fasting continue during the Easter week.
Also known as the Holy Week. Lent to the Eastern Orthodox Churches begins on a Monday and western Ash Wednesday is observed.
Because of the pagan history of Easter. Also because of the high commercialization of Easter, many of the Christian churches refer to Easter instead as the day of the resurrection or resurrection day.
Where does the Easter Bunny come from?
Some sources have it that the Easter Bunny arrived in America in 1700 with immigrants from Germany. Whom settled in the Pennsylvania area. They brought in their tradition. In which a hare lays eggs, and called it the " Osterhase" ortranslated Easter Bunny. The children of these immigrants built nests. Where this creature could lay its colored eggs.
According to the popular website History.com, Easter eggs represent the resurrection of Jesus. However, the association of the egg and resurrection came much later. It was in the 15th century when Catholicism became the more dominant religion in the German part of Europe and joined with pre-existing pagan beliefs.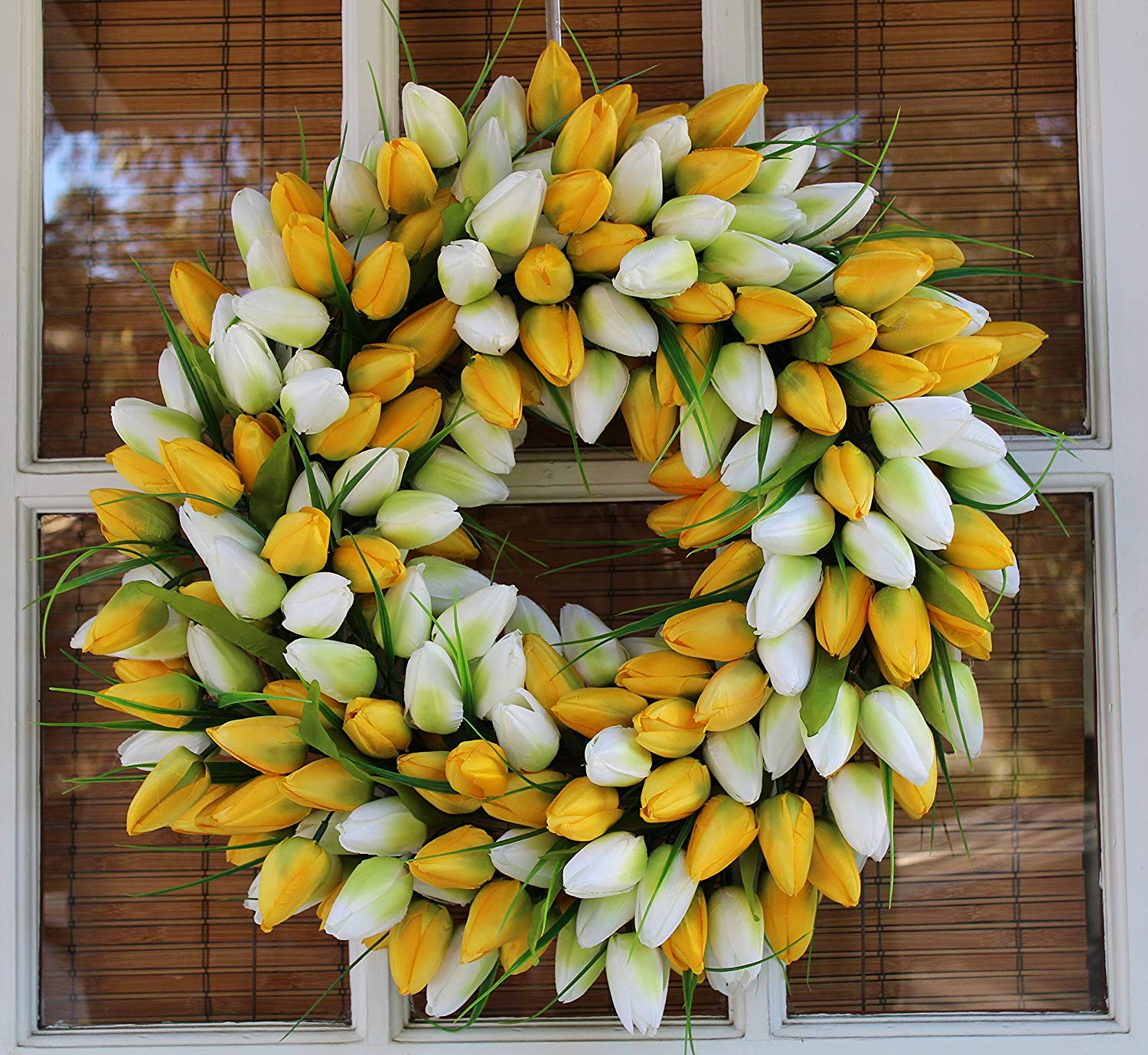 The Bunny is an anthropomorphic one, with its ability to lay eggs and sneaking into homes a night before Easter to present baskets full of colorful eggs, toys, and even chocolates.
Did you Outgrow the Easter Egg Hunt?
No worry, you can still enjoy the Easter Spirit and the Easter Basket Ideas that we prepared with your family in mind. Just follow this link and check out our 25 Easter Basket for all ages.
Due to the spread of Christianity,
Missionaries routinely practiced good business strategies or salesmanship by inculcating pagan ideas and rituals into the context of Christian faith and inputting pagan celebrations or festivals into Christian feasts and holidays (like Christmas).
The Austrian Easter Feast took place at about the same time as the celebration of the Christians of the resurrection of Christ, so that the two celebrations became as one and there was a kind of mix between the two cultures, it seemed natural that the pagans and the images of the eggs the pagans brought came with them into their new faith. This hare has gone on to become the most common rabbit today.
The pagans
The biblical Jews call gentiles, clung to the rabbits and this eventually became part of the Christian celebration. We do not know exactly when, but it was mentioned first in the German writings of the 1600s. The Germans turned the image of the pagan rabbit to Oschter Haws.
A rabbit supposed to lay a nest of colorful eggs and gifts for good children as well. A poll of some Twitter followers shows that 81% of its respondents believe that the Easter Bunny is male.
Based primarily on the images of it wearing a bow tie. The idea of the pregnancy of the rabbit. As to laying of eggs is either to give it a larger than life meaning. Or just a fact that perhaps rabbits were simply awesome then.
Why Is It Called Easter?
There is a single reference of a prior Christianity goddess out of Great Brittan. From an English Monk ( name "Venerable Bede" ). The entry refers back to the end of the seventh or early eighth century.
Either way this goddess "Eostre" was celebrated during early spring. And therefore suppose to be responsible for the name of the Holiday.
,
Why Do We Celebrate Easter?
Easter is the Biggest Event for all Christian Believers.
On the Easter Sunday, Christians around the world celebrate the resurrection of the Lord and Savior Jesus Christ. In general, it is the most attended Sunday service for Christian churches.
According to the Scriptures, Christians believe that Jesus resurrected or came out of the grave three days after his death. As a part of this Easter period, the death or crucifixion of Jesus Christ is celebrated on Good Friday of Easter (i.e. on the Friday before Easter).
By his death, burial and his resurrection, Jesus paid the price for all sin and acquired eternal life through him to all who would believe in him.
For this reason, Easter is the biggest celebration of the Christians, because it is the premise upon which the faith is built. Through Easter, Christians believe could live forever by resurrecting after death by the power of the resurrected Christ. All the Christian beliefs, laws and commandments are based on the resurrection of Christ.
The biblical account of Easter
The biblical account of the death of Jesus on the cross (which is also known as the crucifixion). His burial and resurrection are found in the following passages of the Bible: Matthew 27: 27-28: 8; Mark 15: 16-16: 19; Luke 23: 26-24: 35; and John 19: 16-20: 30.
Of course, the word "Easter" does not appear in the Bible. And the Scripture does not mention a celebration by the early Church of the Resurrection of Christ.
Easter, just like Christmas, is a tradition that was developed later in the history of the church.
Why Do We Color Easter Eggs?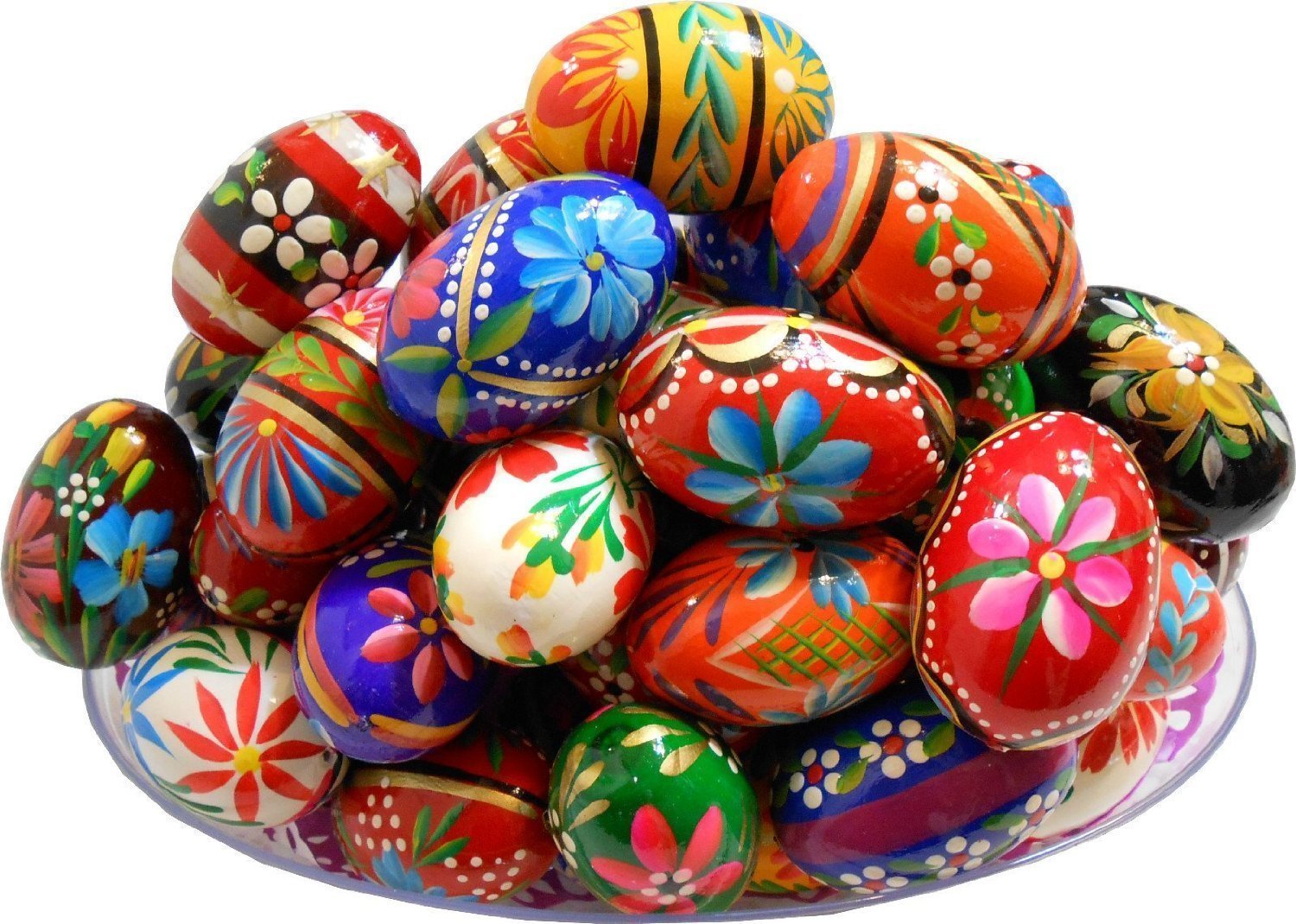 Painting the Eggs is based on the liturgical colors of Easter
What does this mean?
According to Wikipedia " Liturgy" is the customary public worship performed by a religious group, according to its beliefs, customs and traditions"
Or In simple terms:
The liturgical colors are colors found on church decors and clothes of the Catholic priests. And they change throughout the (liturgical) year. These colors underline the different seasons and moods the church is in.
Also, according to the Encyclopedia Britannica, the modern sequence of Roman colors. This guides for the Catholic Church was introduced in 1198 by Pope Innocent III.
He enacted the treatise of De Sacro altar is Mysterio (which means the mystery of the sacred altar). In this essay, the Pope based the symbolism of colors on the Song of Songs.
Or more on the interpretations of colors and flowers of the Song of Songs (or the Song of Solomon) in the Old Testament. In general, other Christian denominations today associate Easter colors similar to those of the Roman Catholics.
Here Are The Main Christian Colors & Their Meanings
The red symbolizes the blood of Jesus Christ. And it is mostly used during Pentecost. Which falls on the fiftieth day after Easter. And it commemorates the descent of the third in the Trinity. The Holy Spirit. Red means sacrifice, martyrdom, fire and of course blood.
The white color is a symbol of purity. That symbolizes the resurrection of Jesus Christ. During the feasts of the Lord and the Passover. White, of course, represents light, purity, and innocence, including joy, glory, and triumph.
After Easter, the priests wear green robes. The color Green represents the hope of the resurrection of Christ and eternal life.
It is a very special color which is only used twice a year. First on the third Advent Sunday. And second on the fourth Sunday of Lent. The pink color is synonymous with joy and love.
This is one of the most prominent colors during the Lent season, especially on the Good Friday. It means suffering and sorrow, especially for the suffering of Jesus during the 40 days he spent in the desert. Violet is synonymous with penance, melancholy, and humility.
Easter Home Decorating Ideas
To make your Easter worth it, you might consider making great Easter feast decors. Those can give your home that wonderful and amazing look it deserves for Easter. How do you make colorful Easter decors? Here are some ideas…
A Cute Idea For A Easter Feast Centerpiece
Easter sweets/candies are not only delicious, they are also beautiful and colorful. If you like to have sweets/candies and want to use these sweets for a big Easter show or display.
Then this might be the perfect project you would embark on. You only need a glass vase and many Easter-themed candies. Marshmallow peeps, Robin's eggs and jelly beans and are perfect for this project.
Especially since peeps are now available in different colors. You may add flowers at the top or a pretty ribbon, whichever your preference will do.
Colorful Easter Chick Placeholders
You might consider filling your Easter dinner table with the joy and cheer of Easter. When creating these colorful and adorable placeholders.
You would need a little terracotta garden dish or pot for each person at the table. The chicks are then made with plastic spoons, then you can paint your placeholders with the same color or create a unique color scheme for each guest.
Hang a sign with the names of your guests on the chicks and you would have one of the most colorful tables in your neighborhood.
And don't worry if you are not into crafts or don't have the time. Because here we have some handpicked Easter decor ideas for you as well
Watch the following video. And find some cheap Easter Decoration Tips & Ideas!
Easter Meal Ideas
While considering how to have the perfect Easter decor. You might also want to plan what you would like to cook/eat.
Foods are amazing, right? Celebrate Easter with a creative and delicious menu.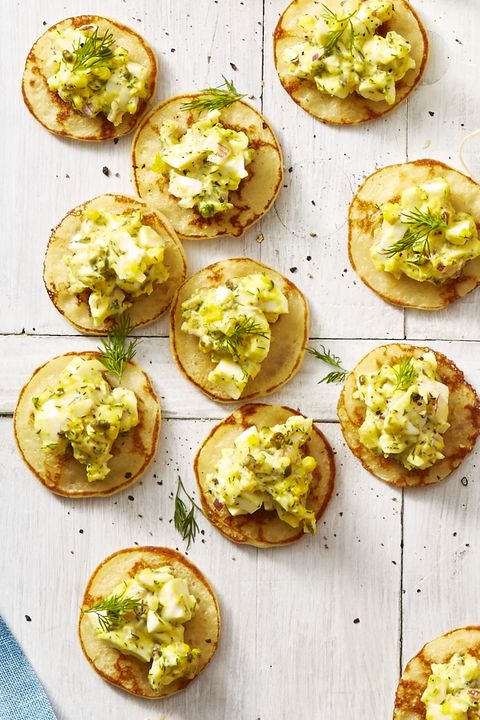 The Formal Easter Feast Family Tradition
You have lots of options for your selection. Ranging from your favorite recipes for glazed ham, pretty green salads, to Lamb & Fish.
So anything you find tasty.
Keep in mind that preserved plums, mixed with fresh citrus fruits andchopped red peppers. As well as ginger, in the mix refresh the traditionally cooked ham.
And a creamy scalloped potato casserole and a tender asparagus amandine are sure to complete a great family menu.
And round it all up with some fresh and fluffy rolls. Preferably direct from the oven. And you are set for any Easter Sunday.
Further if your make your Yeast Rolls from scratch, you can prep the dough and refrigerate it. This can relieve you of the stress of doing it all on the holiday.
Hold on, we would not even think about Easter without your favorite cake or pie.
If you plan to have a formal dinner on Easter day, you might consider some of those recipes above. Which will impress your guest.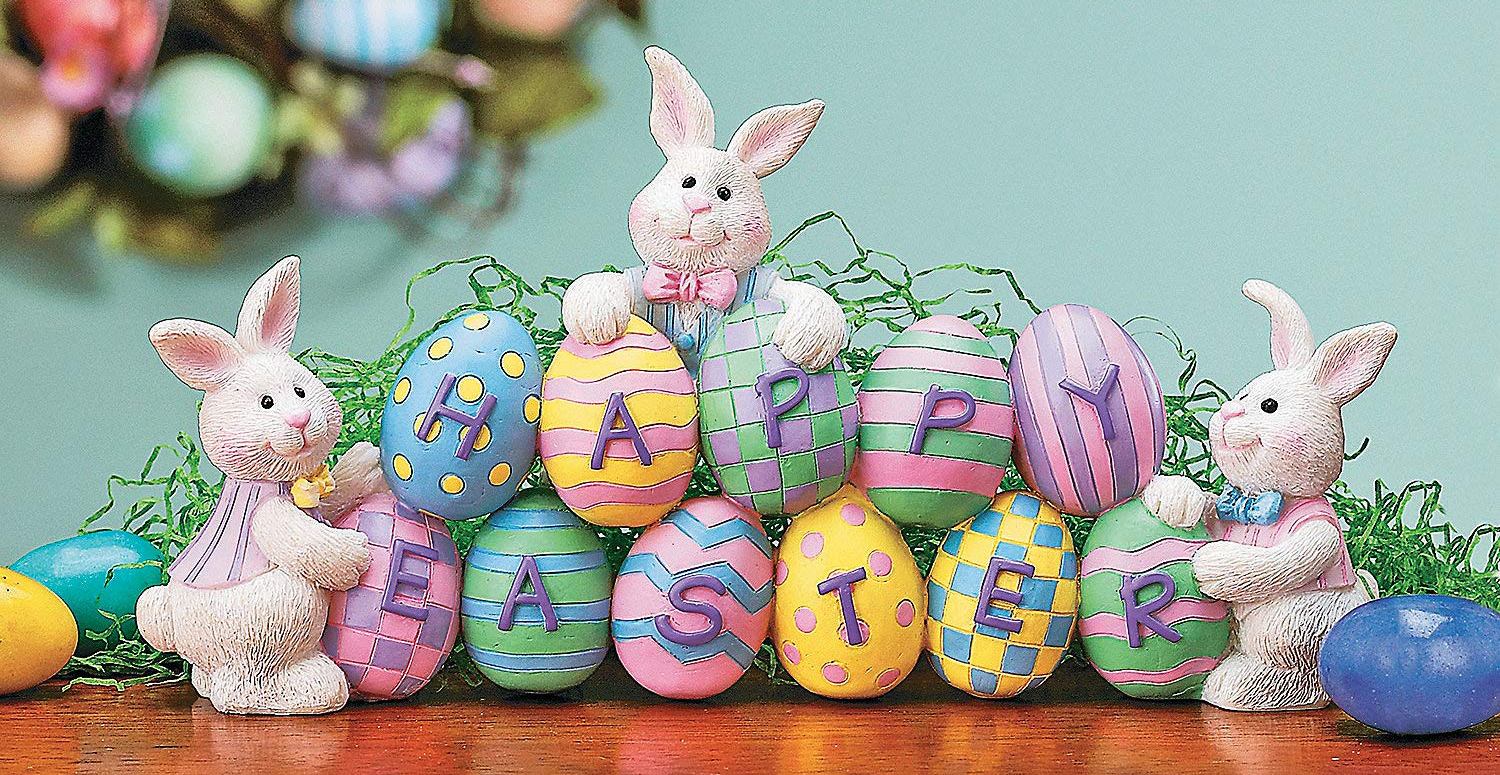 Celebrating This Easter Feast more casual.
And gooa rich breakfast casserole, glasses of champagne flutes and then gather your family and friends for a wonderful mid-morning brunch.
Should you have a nice weather day, You might even consider to venture to your backyard, patio or local park.
If the park is your choice, how about packing up your picnic for a casual meal? Spring can be so wonderful.
However, do not stop just there, some sliced strawberries and spicy pecans could turn a Baby Blue salad, into any one's favorite perennial holiday favorite.
Fun Kids Activities
The Easter Egg Hunt
Yes, the quest for Easter eggs is a tradition that should not be omitted while planning your Easter Feast.
However, there are only a few years that your kids would like to search the garden for Easter Eggs before the idea starts to fade.
Either way, if you get just a bit more creative you can improve their enjoymentin the annual Easter Egg Hunt. Because this activity can really be a gift of its own.
We all know how challenging it can be to keep kids busy. So you better not plan to proceed with the actual egg hunt for long hours of the day. While you are trying to retain its beauty.
However, even the most jaded of the older kids will reach new excitement when you expose them to these very unique egg hunt tweaks.
Here are a few of my favorite Easter egg hunt ideas that you may not have tried yet
Growing an Easter egg garden
If you have very young children, then this old fashion egg hunt is for you. And it could be the sweetest thing to watch on Easter.Let me explain … If they are not old enough to hunt for the eggs wherever. (some are placed for the older kids as well).
You either can create your own garden of Easter eggs, which " grows " plastic eggs. Or you can place candy-filled Easter eggs right into the flowers of the garden. The grass or even right into the sand path will work as well. This will make even the most little ones delighted to find their treat.
Easter bunny tracks
A real Easter egg hunt directed by the very same the Easter bunny? This is a sure one which could be more adorable. Your kids will love to wake up on Easter morning only to discover that Easter Bunny himself has left a personal note and some rabbit tracks showing the direction to the hidden eggs. These cute prints make the egg hunt amazing.
The Golden egg hunt
The little kids of this pirate-loving age will have fun with this specialized search for Easter eggs. If kids know that there are "hidden treasures", like one big and different outstanding golden egg that the Easter Bunny has left, they will probably hunt a little more seriously.
Egg hunt indoors
Do you live in the region of the country where the spring has not yet sprung, you still have hope? You may turn a rainy or cold morning into a pleasant adventure by telling your kids that they'd hunt in the house for all their Easter eggs. To make your egg hunt indoors more colorful and unique, hide the eggs on a path or with clues that lead to a large Easter basket.
Easter Basket Gift Ideas For Kids
Easter Basket Gift Ideas for Children
Those old-fashioned wicker baskets from the store are a thing of the past. Currently introducing the new and interesting collection of Easter basket gift ideas for kids that make sure to take them over the moon!
Browse Plush baskets that function as cuddle friends, dinosaur baskets, quiet ribbon baskets, as well as a lot more. When you include your kid's name to these Easter basket gifts, they'll rarely believe their eyes at the view of the huge letters. They'll think Mr. Cottontail supplied their individual basket himself!
Personalized Easter Gifts for Kids
No matter what item you decide on, personalize your Easter Gifts for youngsters to make this year's existing stand out for years to come. At Prime-Gifts.com, we provide unlimited products you can personalize to make all your own.
Give the little girl in your life a mini-me Cuddle Time Rag Doll with her coordinating name stitched across the upper body or gift the little kid you love with a tailored Disney Marvel Personality Story Reserve to spark his love of reading.
Ideal Easter Gifts for Children
Have a look at our collection of Easter gift ideas for kids, like tailored knapsacks and also automobile kits, or locate Easter presents for girls like our Deluxe Gaming Computer Mouse. Regardless of what age or sex, our collection of Easter gifts for kids will certainly have an excellent present for your little one!
Family Easter Present and also Baskets
We provide much more than terrific Easter suggestions for kids; our collection would not be complete without Easter gifts for adults that allow the whole family to participate in the enjoyable! Looking for your spouse? Our Easter gift ideas for ladies make certain to please. Locate something for everybody, close and dear, right at Prime-Gifts.com.
Cool Easter Gifts For kids
The period of Lent is almost coming to an end, and Easter is at the corner and you are wondering how to setup your Easter celebrations which would ensure the kids have fun. Here is a cool way to make it happen.
Get a basket filler for your kids. I'm quite sure this guide will give you ideas on how to set it up. Most children are constantly waiting for the Easter baskets on a yearly basis. Great Easter basket fillers are always fun and are mostly easy to find.
Complete this Easter Feast with books and kids movies
However, Easter will not be complete without getting some books, stuffed animals or a movie for the kids. There are books on a wide range of topics or subjects which you can get for the kids to make their day and season.
You might consider getting books on science or books on the subject of the season, Jesus. There are lots of these books you can get either online or from your favorite bookstore.
Fun Stuff & Bestseller for 3 Years in a row Fluffy Egg Slime
Yes they sold like crazy for the most part. However, you need to get in on the action early... because last year the price tripled about 2 weeks before Easter.

If you are looking for more super fun and fluffy slime. Like homemade slime as you may have seen on YouTube & Instagram. Perhaps you are looking for a way to reduce your stress level in both a fun and relaxing manner.
Then this super-fun non-sticky scented giant fluffy slime is all you need!
How to play with this slime?
That is the easy part, simply squeeze it and pull it over and over. Just release your pressure to start having fun.
Pinch it, smash it, twist it, pull it over and over, or make models – just use your imagination with the Juicy fluffy slime
Ingredients used In making this include the following, Water, polymeric materials, gelling agents, colorants, fillers, and preservatives
Enjoy.
Conclusion:
As you can see, creating the perfect Easter celebration is not a difficult task.Follow this guide to get the best experience this Easter. And don't forgetto share this as your plan to have fun on Easter Sunday.
Now I like to turn it over to you. Did you learn anything new? Will you celebrate formal or did you like my casual suggestions?Do you plan any of the suggested kids activity?
Or do you have some ideas you like to share with us? Please post comments and questions below. I can't wait to see what you all come up with 🙂
What ever it is that you are planning to do this Easter. Keep in mind that we celebrate the lords Resurrection and the love and forgiveness that we received,
Therefor all you need to do is make everyone that will celebrate this day with you feel special and loved.
Happy Easter from me to all of you and enjoy!
Thanks to top-home-design.com to share parts of this guide with us
JK
Was this post helpfull?